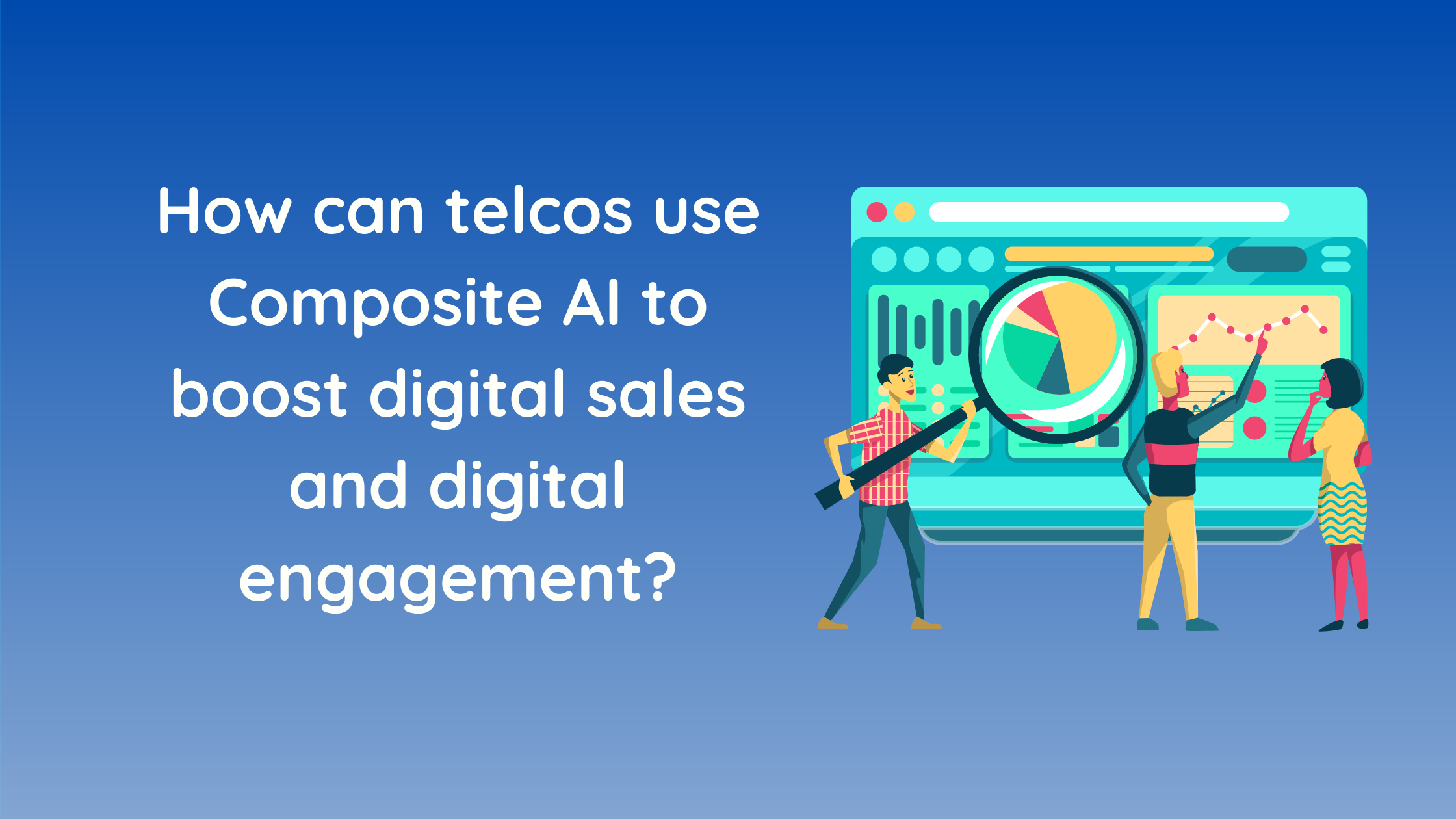 How can telcos use Composite AI to boost digital sales and digital engagement?
With rising competition & increasing demand for individualized experiences, personalized marketing has become a powerful tool for telecoms, for not just improving digital sales and converting customers, but also for building lasting customer relationships.

Global telcos reported an 8% increase in profitability from personalized and targeted messages based on geographical data and past customer behavior analysis. -Bain & Company

CSPs can leverage a combination of AI-powered Customer Value Management (CVM) platform to personalize all inbound and outbound customer interactions, starting from serving dynamic content for inbound visitors on websites to personalized email, social media, and SMS campaigns, and drive hyper-personalized digital engagement with existing customers.
What do we do differently?
TelcoBuddy's CX platform is the first composite AI-powered customer value management + digital CX engine that has pre-trained telecom domain-specific models with 200+ attributes to bring AI-powered hyper-personalization across customer journeys.
What is Composite AI?
"As per Gartner Hype cycle 2020, Composite AI refers to the combination of different AI techniques to achieve the best results."
We help you Move from siloed databases, traditional segmentation strategies, and BI tools to build a rich, AI-powered 360-degree view of customers in real-time and identify relevant campaign target audience groups based on dynamic customer attributes for higher conversions.
How do we do it?
Anonymous personalization based campaigns for new customers: The TelcoBuddy Digital CX platform builds target customer persona using information that is readily available like the ISP details, browser, and device details. This information is then used to create personalized experiences and deliver one-to-one digital engagement with contextual recommendations to prospective customers.

Hyper personalized outbound campaigns for existing customers: The TelcoBuddy Customer Value Management platform leverages advanced data analytics to dynamically enrich customer personas and identify target customers who are most likely to buy a product or subscribe to a service. This ensures the campaigns reach the right customers with the right offers that are personalized, drastically increasing the chance of upsell/ cross-sell.

Campaign performance analysis: The TelcoBuddy Campaign Management Console comes with inbuilt analytics, enabling telcos to easily measure the business impact of a campaign using live stats, historical reports & analytics.

The analytics portal offers deep insights on campaign performance including. – Channel-wise performance, conversion data, open rates, CTR, etc. helping telecoms study their KPIs and improve their digital sales, marketing, and new product strategies.
Benefits
TelcoBuddy customer value management platform helps telecoms manage the end-to-end campaign life cycle - right from creating, scheduling, and launching a campaign, to measuring its impact. Backed with an AI-powered target audience recommendation engine the platform ensures:
20% boost digital sales and new conversions with mass personalization
10X enhanced digital engagement with micro-targeted marketing and hyper-personalized offers
30% increase in revenues with persona-based cross-sell & upsell campaigns across channels
Reduce Churn by 15% with proactive offers & recommendations based on customer behavior patterns
Connect with us for a personalized demo!