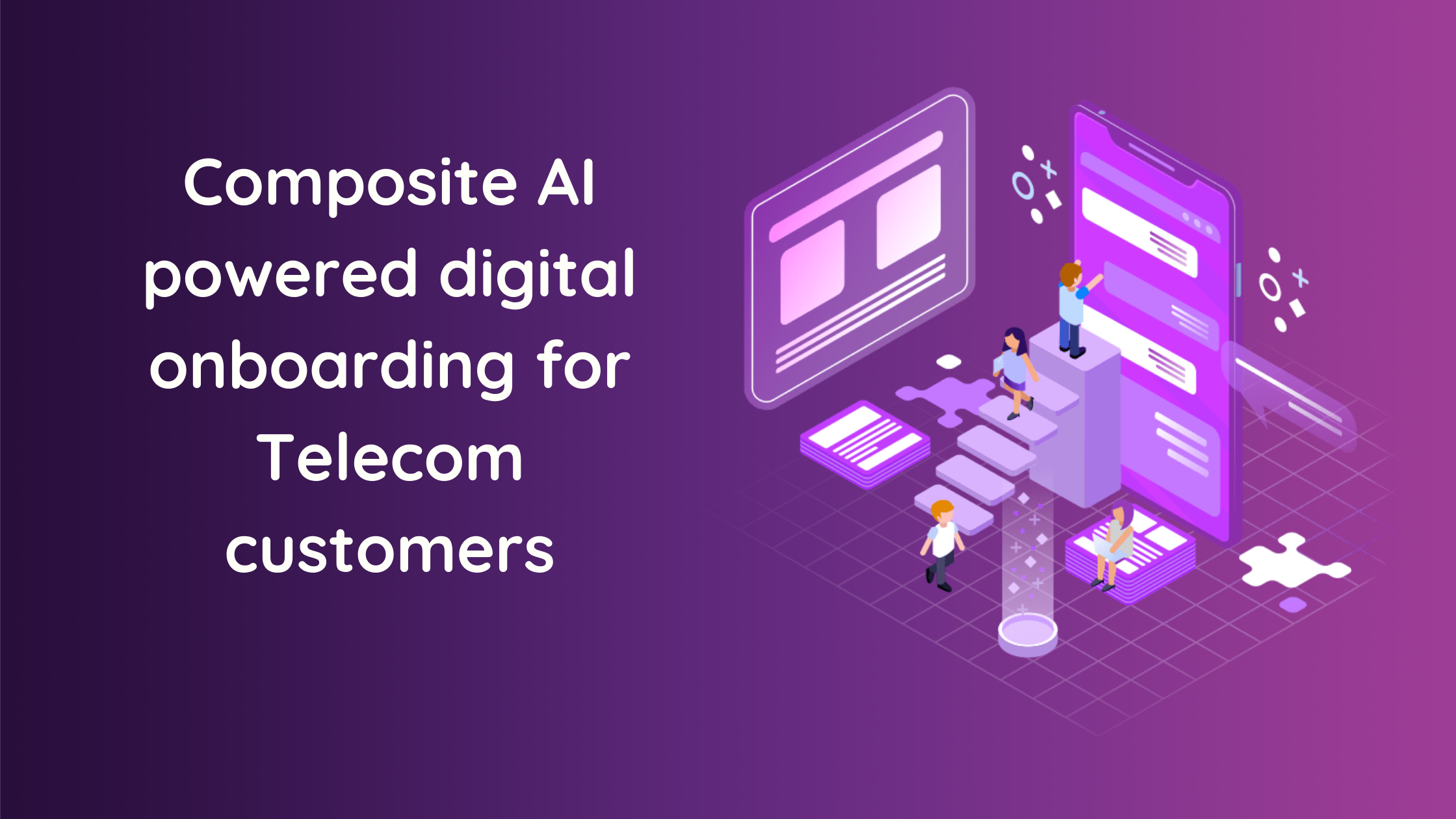 Composite AI powered digital onboarding for Telecom customers
GSMA reports that by 2025 there will be 5.8 billion unique mobile subscribers around the world and 80% of connections will be through a smartphone – the device required to make many digital experiences possible.

As service providers adapt to digital-first models, remote onboarding and eSIM services have been added to their list of customer acquisition strategies. While digitizing the customer onboarding process in telecom has proven to be largely beneficial, adopting a fully digital model has been challenging for CSPs due to:
Inability to be omnipresent across channels and offer multilingual onboarding journeys
Lengthy digital forms resulting in below par customer experiences
Lack of live customer verification and instant eKYC
Non-integrated payment options which break the customer journey
How can telecoms frictionlessly onboard customers digitally with complete eKYC? Offer a fully digital onboarding journey in the customer's language of choice with guided product search, personalized plan recommendations, fully digital KYC, and instant plan purchases across channels.
TelcoBuddy dynamic Onboarding platform with eKYC
TelcoBuddy digital onboarding platform is a comprehensive omnichannel onboarding solution specifically designed for telecom customers. The multilingual platform provides CSPs the flexibility to onboard new customers anywhere anytime in the language of their choice, while ensuring compliance regulations are met.

The onboarding platform can be easily be integrated with internal and external APIs including government agencies and databases and leverages a host of AI technologies including OCR, ASR, computer vision, machine learning, and more to ensure customers a hassle-free onboarding experience.

With TelcoBuddy digital human and virtual assistants, CSPs can elevate the onboarding experience with guided process flows, contextual multilingual engagement, and personalized human-like interactions in real-time.

Here is how we help:

New customer onboarding

Complete frictionless onboarding for new subscribers, right from product search to plan purchase and SIM delivery schedule. With assisted plan search and personalized recommendations based on unique requirements, the customers are presented with plans/ packs best suited to their needs.

Once a plan is selected, the customer can submit their ID to complete KYC for SIM registration in less than 3 minutes. The entire process occurs in a single frictionless flow- from data extraction and image verification with a selfie to SIM delivery scheduling and secure payments with flexible options- credit/debit card, wallet, bank transfer, etc.

SIM porting

Offer a frictionless porting experience to subscribers wishing to shift to your network. Verify port code, collect ID proof documents, and complete live customer verification using video KYC using simple guided process flows in the language of their choice. Deliver personalized plan recommendations based on customer requirements and enable hassle-free plan purchase and SIM order.

New service activation for existing customers

Enhance digital engagement and deliver personalized plan recommendations to existing customers based on their usage patterns. Increase upsell cross-sell conversions and boost revenues with instant customer authentication and multiple payment options during new product, top-up & add-on purchases.

eSIM activation with instant customer verification

Ensure a seamless eSIM activation experience for existing customers and instant verification for new with integrated activation across connected devices along with biometric barcode pin authentication.
Benefits of dynamic onboarding for telecoms
Increased Customer Acquisition: Extend your reach with end-to-end secure digital onboarding and plan purchase/activation with an omnichannel multilingual platform.

Reduced Costs: Avoid dependency on physical channels and field agents for document collection and verification.

Enhanced CX: Self-service onboarding with product-wise flexible onboarding journeys and inbuilt flexible payments options.

Digital engagement: Offer your customers hyper-personalized contextual recommendations of own and partner products, based on their usage patterns and increase chances of upsell cross-sell conversions with micro-targeted offers in real-time.

Find out how you can leverage AI powered personalization to boost new visitor conversions and digital sales: https://telcobuddy.ai/AI-powered-personalization-to-boost-digital-sales-for-Telecoms