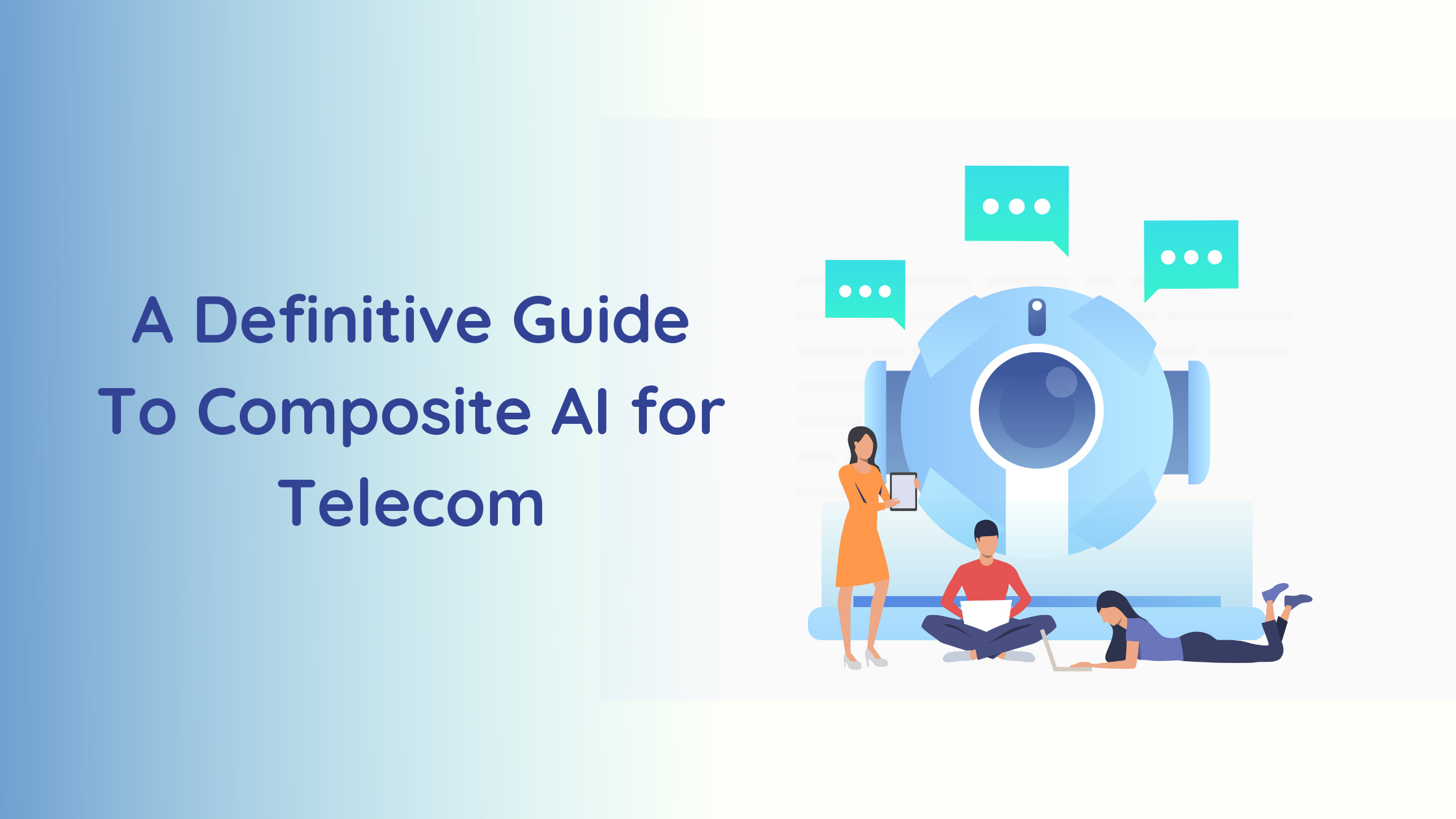 A Definitive Guide To Composite AI for Telecom
The global AI in the telecommunication market expected to reach $2,497.8 Million by 2022, at a Compound Annual Growth Rate (CAGR) of 46.8% during the forecast period according to the latest study by MnM research.

Early adopters of Artificial Intelligence across industries have realized that Isolated AI use cases do not create sustainable value for business and they need a comprehensive AI approach to leverage Composite AI embedded with Domain knowledge.
What is Composite AI?
Composite AI is a breakthrough approach combining multiple AI realms to more deeply interpret data and efficiently solve a wider range of business problems. The techniques applied include- knowledge graphs, natural language processing, contextual analysis, machine learning, deep learning, Computer vision, Recommendation systems, and other methods.
Why Composite AI for Telecom?
The telecom industry deals with vast amounts of unstructured customer data from devices, networks, mobile applications, geolocations, detailed customer profiles, services usage, billing data, and so on. In order to reap the real benefits of AI, the data, functions, workflows, and ecosystem must be treated & analyzed in totality. The siloed approach often results in poor broken customer journeys resulting in poor customer experience.

Composite AI with a common knowledge graph ontology of customer attributes, product attributes, and AI models can help overcome the silos with comprehensive intelligence across customer journeys.

A good example is contextual engagement with Machine Reasoning whereby Big Data, recommendation systems, predictive analytics, and Natural Language processing are used to hyper-personalized customer journeys for existing telecom customers.
How does it benefit CSPs?
A. Intelligent interactions

Composite AI enables intelligent customer interactions with proactive service, contextual cross-sell and upsell, and persona-based offers and recommendations.

B. Frictionless customer journey

Enhance digital customer experience across channels e.g. Higher prospect conversions in digital sales by streaming live product recommendations based on dynamic persona driven by location, device, context understanding from clickstream/NLP chat conversations, machine reasoning based dynamic pricing & instant personalized offers, followed by remote onboarding/eKYC on the channel for a frictionless journey.

C. Lightning-fast time to market

Prebuilt customer journeys bring built-in best practices, workflows, security, governance, and backend adapters for quick launch.

D. Seamless expandability

A single data and AI layer with a development toolkit and SDK enable CSPs to build new use cases easily from scratch or by reusing the pre-built models e.g. extend the propensity model to churn prevention by leveraging the same data and customer attributes.

Kick Start your strategic journey towards AI-Powered CX with TelcoBuddy Composite AI platform. Connect with us for a personalized demo!